Why TBI
It`s all about what we do and how we do it!
With over 30 years of experience in applying working pipeline solutions to the residential and industrial sectors; TBI has a well balanced approach to both the technical and practical sides of pipeline installation. All staff are trained in real life, working situations to gain first-hand experience, so you can be assured that you are acquiring the right product for the job and you will have the best possible chance of a trouble-free solution. This experience enables us to continually provide quality product and solutions where we take the approach of doing everything possible to achieve 100% customer satisfaction.
What sets TBI apart is our consistent dedication to delivering product on time, every time and standing firmly behind any goods or services we provide. This commitment is backed by the following guarantees:
Quality Guarantee
All products and/or services delivered by TBI will be to the highest quality and if something is not right we will do what it takes to put it right.
Tomorrow Building Innovation
Firm belief to our motto ' Tomorrow Building Innovation.' We offer state of the art products of highest quality, which are adapted to the latest technological developments. This focus on future technologies, environmental friendly as well as sustainability, are the cornerstones of our business philosophy.
TBI
TBI is a symbol of: Tomorrow Building Innovation. We are committed to providing our valued clients with an ongoing unrivaled level of customer service and quality with value.
Products
Stainless Steel Potable Water System is made of grade SS304 or SS316 stainless steel material which is NO heavy metal leaching, safe and hygienic, as tested by European Union, UK and US NSF.
TBI Stainless Steel Pipe:
OEM manufactured by YC Inox of Taiwan, approved by PED 97/23/EC.
Grade SS304 or SS316.
Certified to BSEN 10217-7, dimension conforms to BSEN 10312.
Weld factor =1.0, identical to seamless, applicable for low temperature, room temperature and elevated temperature.
Prevent BSEN 12502-4:2004 pitting and crevice corrosion.
TBI Double Seals Press fit Fitting:
PREN 10352 standard fitting: dismantle & reusable
AS3688 standard fitting: use press tool, permanent jointing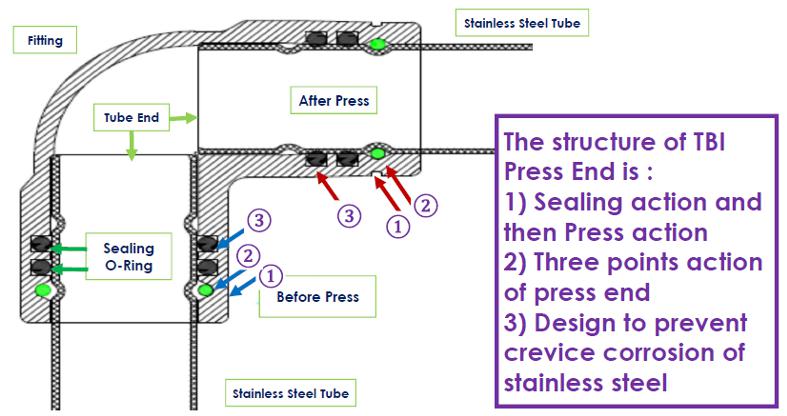 AS3688 DN15-DN54 Destructive Test
AS3688 DN54 Pressure Cycling Test
Benefits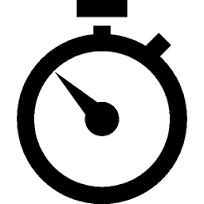 Speed of installation
TBI stainless steel double seals
press-fit piping system is up to 5 times
faster to install than conventional
copper piping systems resulting
in savings of up to 10% on a project.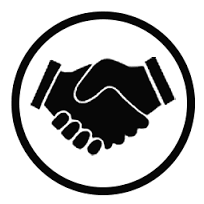 Reliability in every joint
Each TBI stainless steel double seals
press-fit joint is safely interlocked
with the connecting pipes to ensure
each joint is held together securely.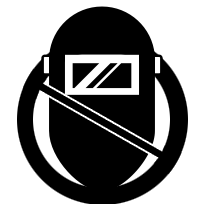 No welding on site
Every properly trained installers
can install TBI stainless steel
double seals press-fit piping
system reducing the need for
expensive specialised welders –
resulting immense labour saving.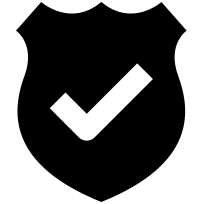 High Safety
Each joint is simply pressed fitted
by hands, eliminating the need for
gas bottles, hoses and naked flame
which also means no hot work permits
are required.
TBI stainless steel double seals press-fitpiping system can be used by a
full spectrumof industry including: Manufacturing,food processors,
pharmaceutical,water treatment, wineries, hospitals,universities and military purposes.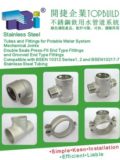 TBI Stainless Steel Pipe and Fitting Catalogue 2017
Insulation of pipes and fittings
Insulation properties
●   UV resistance
●   Low Smoke, non-toxic, no release of dioxin
●   Fire retardant to UL224
PREN 10352
System installation configuration diagram
Technology
TBI Revolutionary Piping System
TBI stainless steel double seals press fit piping system is a revolutionary piping system which is leading the way in stainless steel piping in Hong Kong, Macau, China, Taiwan and Japan water supply systems. The speed at which TBI stainless steel double seals press fit piping system can be installed, the integrity of each joint, and the massive labour savings elevate TBI to an industry leading piping system. With a successful evolution from its first generation, TBI system was firstly designed in Taiwan in 2000 and further developed in Hong Kong jointly by two genius industrialists, namely Mr. Lee and Mr. Benjamin Chan, both with over 30 years pipe industry experience. TBI stainless steel double seals press fit piping system is at present the most innovative green piping system in the world. The uniqueness and precision of each fitting has lead TBI stainless steel double seals press fit piping system to be recognised as supreme in quality piping systems. Thousands and thousands of TBI fittings are being produced each year, all meeting the required quality standards. This wealth of experience means TBI have now become Hong Kong's one of most trusted pipeline product suppliers.
Electrical cutting and grooving machine